We provide innovative pipeline construction solutions that are delivered in a safe, cost effective and well managed manner.
We have installed over 400 kilometres of pipelines in the Bowen basin inclusive of the following types:
HDPE  
DICL  
Concrete
Fiberglass reinforced (FRP)
StormPro
Steel  
Brass
Copper
PEX
PVC
ABS
In Australia, gas related services include:
Gas well connections
Construction of coal mine gas drainage pipelines, gathering & reticulation systems
Low point drain installation
Flare stack construction & maintenance
Floxal line construction
Labour, plant and machinery hire
Our water related services in Australia include:
Water pipeline construction
Tailings and slurry lines
Storm water and civil pipelines
Culvert water systems
Dam inlet and outlet decant structures
Process plant welding
Labour, plant and machinery hire
Pipeline Construction Projects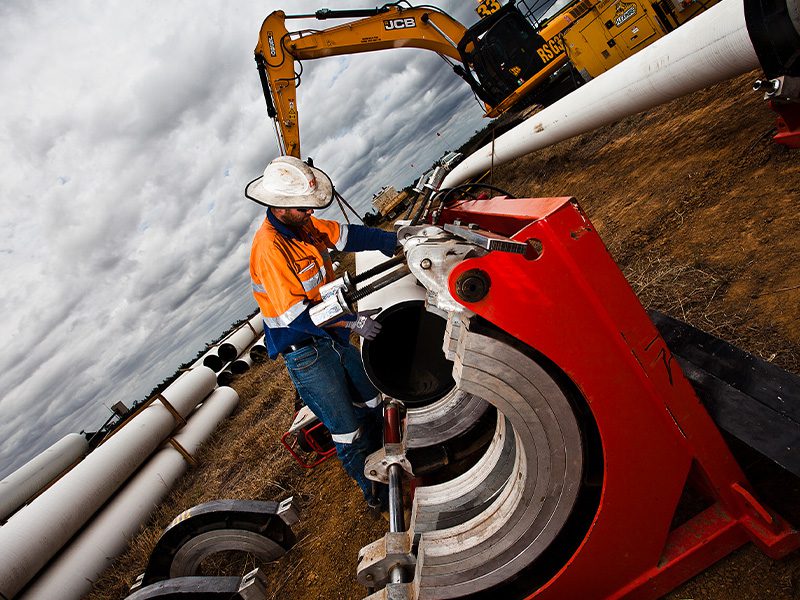 RSG were engaged to undertake the Construction of Grosvenor Mine main trunk line and connection to the gas plant (stages 1 and 2).
Read More »
RSG have been engaged to undertake various pipework for Arrow Energy on a preferred supplier agreement. The works completed are a mix of subcontract works and polywelder hire for gas and water networks.
Read More »
RSG were engaged by BMA to undertake various pipeline installations at Broadmeadows underground mine site.
Read More »
See more

of our projects...
Reay Services Group is fully resourced and has the capacity to facilitate projects Australia wide…